Experience
beautiful

destinations
Avelo offers non-stop flights from Hollywood Burbank Airport to the West's most beautiful destinations, from wine regions to national parks to cultural hubs. Traveling to smaller, well-located airports means smoother travel that saves you money.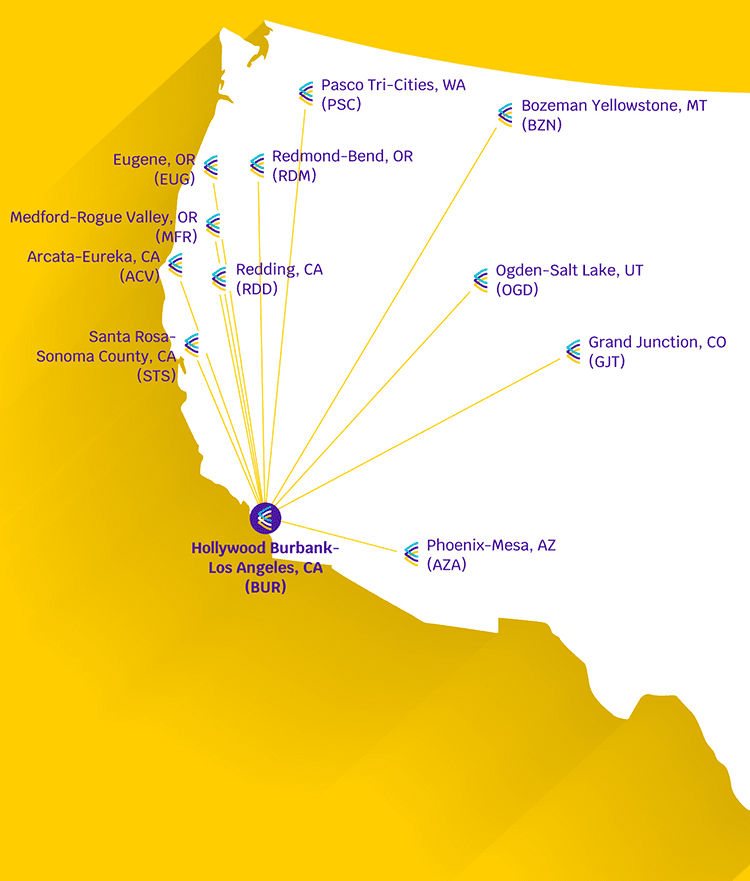 Hollywood Burbank Airport – LA's best kept secret
Locals know and, now, so do you: Hollywood Burbank is LA's most convenient airport.
When you land at Hollywood Burbank Airport, you can be on your way to LA's must-see places in minutes. We want you to get to the fun, and sunshine LA is known for faster and simpler. Get in your rental car or hop in a cab or rideshare just a few steps from your gate. Because Burbank is centrally located, your savings will continue as you travel to LA's hot spots.
Hollywood Burbank is closer to Griffith Park, Universal Studios Hollywood, Hollywood, and Downtown Los Angeles than LAX. It is the only airport in the area with a direct rail connection to Downtown and, from there, all over California.
Traveling from Burbank is a faster and smoother way to begin your trip. From drop-off, parking, or even a dedicated valet service, travelers will be at their gate in a breeze while paying only a fraction of these services' costs compared to LAX. The smaller crowds, shorter walks to your gate, and brief taxiing times mean a smoother and faster start to your trip.
From Burbank, you can board direct flights to some of the west's iconic destinations, from wine regions to outdoor meccas to urban hubs. Surprisingly low fares combined with smoother travels sounds like a vacation to us.
Distance to LA's landmarks
Distance to LA's landmarks
Start your vacation early with these ideas of
things to do

right after you land:
From Hollywood Burbank Airport, head straight to Atwater Village,  home to a compact main street of small businesses, restaurants, and coffee shops. Grab a breakfast taco or burrito at Villa Corona, and while you wait for your taco, head next door to Black Elephant Coffee for your caffeine fix. Now that you are fed and caffeinated, drive a few minutes to Griffith Park. From here, hike the Coolidge Trail to the top, where you will have a perfect view of Los Angeles, the Griffith Observatory, and the Pacific Ocean.
On your short drive to Pasadena, make sure you cross The Colorado Street Bridge of La La Land fame. After checking out the shops and restaurants of Old Pasadena, continue to the Huntington Gardens to walk through the sprawling botanical gardens and galleries. The calm and quiet will make you feel that you are miles outside of the city.
Before immersing yourself in all things Hollywood, satisfy your hunger at the family-owned and operated Portos Bakery in Burbank. So good, we bet you'll stop again before your flight home. When you land at Hollywood Burbank Airport, you are mere minutes from many of LA's film and movie studios. Start your LA vacation with a tour of Warner Brother Studios, Disney Studios, or Universal Theme Park (butter beer anyone?) and be there just moments after landing.
Avelo is the go-to airline for the outdoor purist, wine enthusiast, skier, nature lover, or anyone who wants smoother travel that saves money.
Arcata - Eureka, CA

Victorian charm at the center of California's Redwood Coast

Learn More

Redmond - Bend, OR

Where the snow-capped Cascade Mountain Range surrounds the high desert

Learn More

Hollywood Burbank - LA, CA

Start your vacation early with these ideas of things to do right after you land

Learn More
Bozeman Yellowstone, MT

Bozeman, the gateway to Big Sky Country

Learn More

Eugene, OR

Eugene, where the Willamette Valley begins

Learn More

Grand Junction, CO

Where the Colorado River meets dramatic red rock landscapes

Learn More
Medford - Rogue Valley, OR

Launchpad to the Rogue Valley

Learn More

Ogden - Salt Lake, UT

Utah's famed mountains are calling

Learn More

Pasco Tri-Cities, WA

The heart of Washington's Wine Country

Learn More
Redding, CA

600 square miles of State and National Parks call the adventure seeker

Learn More

Santa Rosa - Sonoma, CA

The urban heart of Sonoma Wine Country

Learn More

Phoenix - Mesa, AZ

Arts center surrounded by the Sonoran Desert

Learn More
Flying is
affordable

with Avelo — Book, relax, and you're there
Sign up now for low fares, on-time flights and smooth travels with Avelo.